With few ballots left to count, Boebert maintains slight lead over Frisch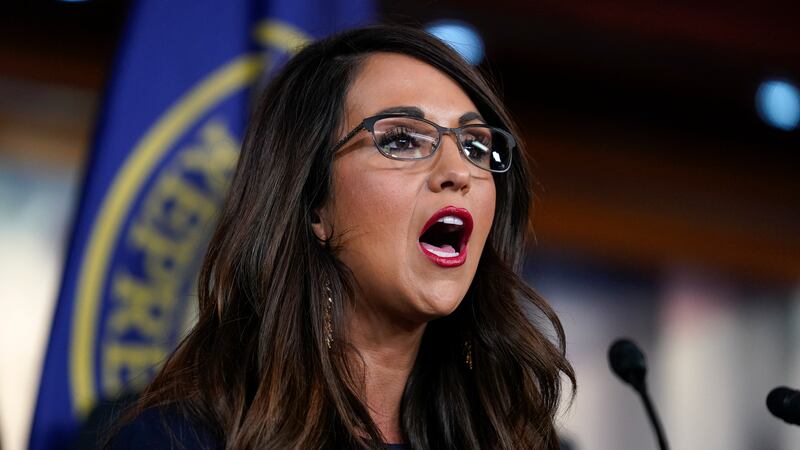 Published: Nov. 10, 2022 at 6:54 AM MST
|
Updated: Nov. 17, 2022 at 5:08 PM MST
UPDATE 5 p.m. Nov. 17 | GRAND JUNCTION, Colo. (KKCO) - Despite the 2022 midterms coming to a close with only a handful of ballots left to count, the race between incumbent Lauren Boebert and challenger Adam Frisch continues to ride a razor's edge. Frisch is now just 551 votes behind Boebert, well within the .5 percent threshold for a recount.
Boebert began to gain momentum on November 10, after seeing a boost that pushed her ahead of Frisch for the first time since election night. Her lead widened to a peak of 1,229 that evening.
The race remains too close to call, with CD 3 split in a near-perfect 50/50. Boebert leads with 163,733 votes, with Frisch trailing just behind at 163,182 votes at a mere .16 percent difference.
UPDATE 9:40 p.m. Nov. 10 | GRAND JUNCTION, Colo. (KKCO) - While scores are still unbelievably close, Boebert still holds the lead in the 2022 General Election for House of Representatives in District 3.
Frisch currently holds 160,918 votes and Boebert holds 162,040.
The margin for a recount in Colorado is .5 percent. As of 9:40 p.m. the variance between Frisch and Boebert is .34 percent.
UPDATE 4:30 p.m. Nov. 10 | GRAND JUNCTION, Colo. (KKCO) - Representative Lauren Boebert has gained a significant lead in the high-tension race for Colorado's 3rd District.
As of 4:23 p.m, Boebert is 1,229 votes ahead of challenger Adam Frisch. The two rivals are still within the margin for a recount, sitting just .38 percent apart.
The race remains too close to call.
UPDATE 4:20 p.m. Nov. 10 | GRAND JUNCTION, Colo. (KKCO) - Following Representative Lauren Boebert's lead earlier on Wednesday, challenger Adam Frisch has regained some lost ground.
As of 4:13 p.m, Boebert is now a total of 652 votes ahead of Frisch, with the former Aspen city councilman regaining 142 votes from Boebert's previous lead of 794.
The race remains too close to call as the state heads into the evening, with the competition for Colorado's 3rd District remaining on a razor's edge.
UPDATE 1:30 p.m. Nov. 10 | GRAND JUNCTION, Colo. (KKCO) - Representative Lauren Boebert is still locked in a neck-and-neck race with challenger Adam Frisch, but after taking the lead for the first time since the beginning of election night late Thursday morning the Colorado congresswoman has widened her lead by 361 votes, putting her 794 total votes ahead of Frisch.
Boebert is facing the razor-thin race with optimism, posting memes and telling her supporters to "Hang tight. Keep the faith!"
Frisch reminded voters in a press release that the race is still too close to call with up to several thousand votes remaining in military and uncounted state ballots.
"Everyone in this district deserves to have their voice heard, regardless of political affiliation, and I am confident that each and every valid ballot will be counted," Frisch said. "In particular, we must honor and respect those who serve our country by ensuring that every military ballot is taken into account. Every vote matters in this incredibly close race and thousands of votes in Pueblo County and from military and overseas voters remain, and a considerable number of curable ballots remain as well. It is crucial for our democracy to count every vote and I have full confidence in the 27 county clerks in this district to conduct a fair count. While I remain confident, I will ultimately respect the results of this election regardless of the outcome."
The two candidates have dipped in and out of the threshold of .5 percent needed to trigger an automatic recount, but the Secretary of State's office says that the earliest Colorado could see a confirmed recount is December 5, according to state law. "No recount would be ordered until after the canvass, and then our office compiles those results," said the Secretary of State's office.
___
Updates will continue to roll in as votes are counted.
UPDATE 11:30 a.m. Nov. 10 | GRAND JUNCTION, Colo. (KKCO) - Incumbent Republican Lauren Boebert has taken the lead for the first time since the start of election night.
As of 11:27 a.m. Nov. 10, Boebert took the lead by 433 votes, breaking Democratic challenger Adam Frisch's lead. Boebert has 50.07 percent of the vote, with Frisch just behind at 49.93 percent.
The race has been riding a razor's edge since early Tuesday evening and looks to continue keeping Colorado voters on their toes. Votes from at least two counties are still being tabulated, so the race is still an open question.
GRAND JUNCTION, Colo. (KKCO) - The 2022 General Election in Colorado has voters on the edge of their seat waiting for the final outcome.
As of 6:35 a.m. on Thursday, Nov. 10, Frisch holds the lead by 64 votes, according to the Secretary of State.
Frisch has 156,746 votes in his favor whereas Boebert has 156,682. The vote is in Frisch's favor by 50.01%, Boebert at 49.99%.
Lauren Boebert, Republican Party candidate is a member of the U.S. House, representing Colorado's 3rd Congressional District. She assumed office on January 3, 2021. Her current term ends on January 3, 2023. Boebert was born in Altamonte Springs, Florida, and lives in Rifle, Colorado. Boebert's career experience includes working as a natural gas product technician and owning and operating Shooters Grill.
Adam Frisch earned a bachelor's degree from the University of Colorado Boulder in 1990.
Copyright 2022 KKCO. All rights reserved.