Windy conditions arrive Thursday, with fall-like temperatures Saturday
Published: Sep. 20, 2023 at 10:30 AM MDT
GRAND JUNCTION, Colo. (KKCO) -
Hold onto your hats; windy conditions are coming:
We will already feel a slight breeze throughout our Wednesday, but Thursday and Friday will be the main windy days across the Western Slope. Windy gusts in the valleys for Thursday and Friday can reach up to 30 miles per hour. Winds in the high country can get up to 50 miles per hour due to less resistance for winds to slow down.
Wednesday, September 20, will be a great day to prepare for the breezy conditions, but tie down and secure loose objects.
A taste of fall at the start of the season:
The first day of the fall season will start on Saturday, September 23, and conditions and temperatures will feel fall-like across the Western Slope. Temperatures for Grand Junction and Delta will sit in the lower 70s. Montrose and Cortez will hang in the upper 60s. For other locations in the high country, temperatures are getting lower, around the lower 60s to 50s, and with these fall temperatures arriving, it will keep the following morning on the chilly side.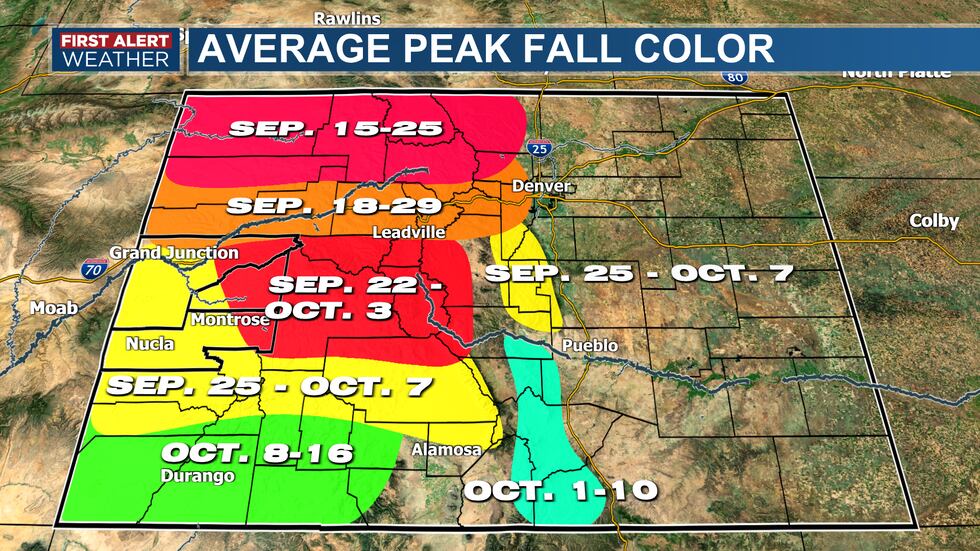 Our next 24 hours:
Throughout our Wednesday, conditions will remain calm, with most of the Western Slope staying dry. Cloud cover will push in from the Four Corners region and track northeastward throughout the state. During its track moment, cloud cover will become scattered across the Western Slope, leading to a majority of areas, including the valleys, to have brief overcast skies. Temperatures throughout the day will hang around the mid-80s for Grand Junction and Delta, while Montrose and Cortez will sit in the upper 70s.
In the overnight hours and arriving on Thursday morning, the San Juans will see the next round of rain and snow. Similar to tracking the movement of the cloud cover throughout our Wednesday, the next weather maker will continue to push northeastward. Most of this weathermaker will stay in the higher elevations, but Montrose has a slight chance to encounter a few sprinkles in the morning. By the afternoon hours, the Western Slope will see clearing and then experience the start of gusty winds.
Copyright 2023 KKCO. All rights reserved.