Athletes of the Week - Will Applegate and Noah Watkins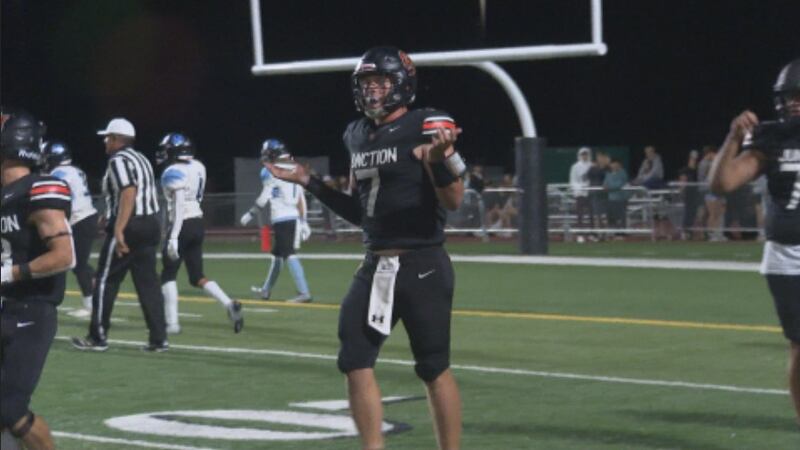 Published: Sep. 20, 2023 at 11:42 PM MDT
GRAND JUNCTION, Colo. (KKCO) - The Grand Junction Tigers Football Team picked up their first win in a 28-7 victory over the Mountain Range Mustangs. The Tiger's duo of Junior Quarterback and Linebacker Will Applegate and Junior Wide Receiver and Safety Noah Watkins.
The two were near-automatic in near the endzone against the Mustangs, particularly with a pitch play from Applegate to Watkins.
"That pitch play that we run is really good, like ten yard carry every time. So, we run that a lot when we're in the endzone," Applegate said.
"I'm taught to like stay with him [Applegate]. So, he can pitch to me at any time. And so yeah, that's what I did. And I know he makes smart decisions with the ball. And so, I expected him to pitch it to me and me to punch it in," Watkins said.
The pitch plays from Applegate to Watkins paid off and resulted in a pair of touchdowns for the tigers, as well as a a two-point conversion.
"I feel really confident going into that play. Like once we get called in, I was pretty hyped that I had a chance to score," Applegate said.
The two tigers were not just big on the offensive side of the ball, but on defense as well. Watkins locked down the Mustang passing attack at Free Safety, and Applegate had an interception while playing Linebacker, as the cherry on top of a big game at Stocker Stadium.
" It was just positional, I had to back out on the swing, so I was right under him. I was in good position to make a play," Applegate said.
"It really gets us really going because, I think Will is a great quarterback and all but he's an outstanding linebacker and an outstanding defensive player. And I just love seeing him ball out on both sides," Watkins said.
Watkins, Applegate and the rest of the Grand Junction Team will face off with their next opponent on the road, in the Front Range taking on the Overland Trailblazers.
Copyright 2023 KKCO. All rights reserved.