Grand Valley artists make one-of-a-kind road trip
Published: Sep. 21, 2023 at 12:57 PM MDT
CISCO, Utah. (KKCO) - Doug Hayduk and Matt Fay are Grand Valley artists who met each other under unusual circumstances.
Hayduk, from Palisade, Colorado, says he's not really an artist, but had an idea for a project he just had to try. "I am passionate about art but I'm not really an artist. I can't paint. I can't sing. I can't draw. I don't work with pottery. But I do like metal, and I work with metal," he said.
Hayduk says he was inspired by the Cadillac Ranch cars in Amarillo, Texas, and some of the artistic sensibilities of the Burning Man festival. "I got this crazy idea to get this Cadillac, I got help with it, got it cut and was able to make this happen. And just love it," he said.
The Cadillac is a 1963 Coupe deVille, and this one is half buried in the ground in Cisco, Utah. Hayduk says he wants it to be an interactive piece of art.
"I became friends with the owners of the Buzzard's Belly store and got permission to put in an art sculpture," said Hayduk. Buzzard's Belly is the general store in Cisco. It's the perfect spot to catch the eye of travelers on the old highway that goes by the town.
After the Cadillac settled, Hayduk thought it was missing something to tie it all together, and really make it a part of the local landscape. "After I got this beast of Cadillac in the ground, I sat here one morning looking at the roof and I thought that's a canvas for a painting. I need to have something painted here," he said.
No stranger to the eccentricities of western Colorado, Hayduk thought he could find an artist in Fruita who was willing to make the 40-mile journey to the Cadillac. In Fruita there's a co-working/retail art space, full of studios and galleries of local artists called FARM. There, Hayduk found Matt Fay, who said yes to the project without even seeing it.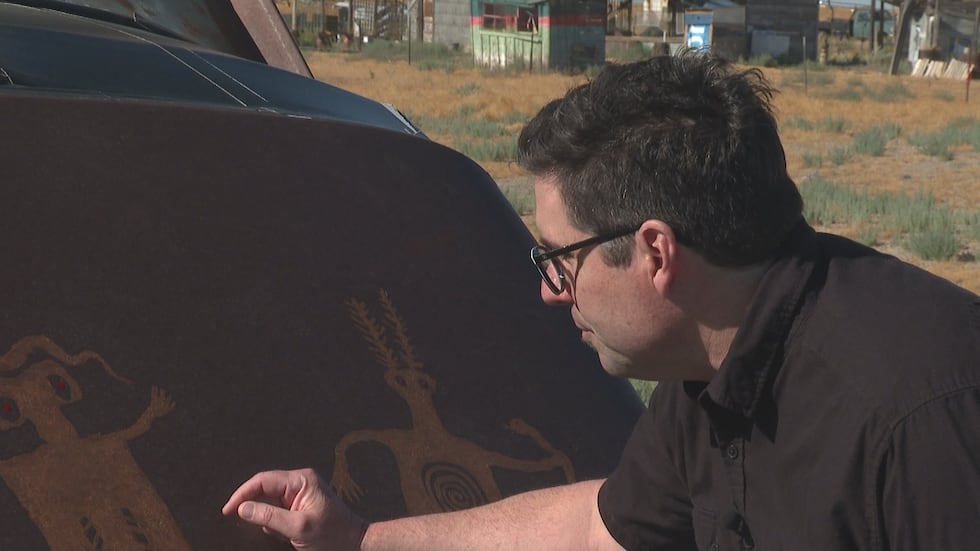 "I'm painting portrait as I normally do, and I hear a booming voice from downstairs talking about painting a car," said Fay.
Fay is a fine art painter with a studio in FARM. When he talked with Hayduk about the project, he says it sounded like a one-of-a-kind canvas that he just had to paint. "I think this project fits Doug's personality perfectly. It's big, it's funky, it's interesting. He picked the perfect project and he should be proud," said Fay.
Another perfect fit, what Hayduk decided should go on the roof of the car. "I thought what better thing to do than pay tribute to the rock art that's out here in Utah," he said.
He chose some of his favorite rock art figures, found in the San Rafael Swell, about an hour west of Cisco.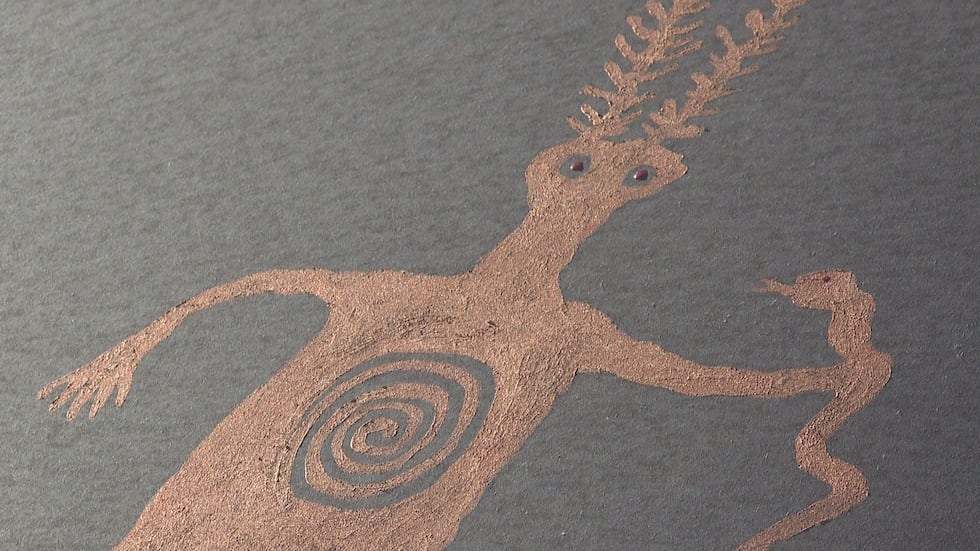 Finding the right kind of paint for the roof of the Coupe deVille wasn't easy. To find something that fit in with the rust and patina of the car, and would hold up under all kinds of weather meant most kinds of paint wouldn't cut it.
Hayduk and Fay ended up creating a custom mixture of metallic sign paint for the job. "Brushstrokes are always a good thing to have in art, and finding a paint that was thick enough to let some of those shine through was a really good thing. The metallic part is great," said Fay.
Hayduk couldn't be happier with how it turned out. "We met here at 4 a.m. and were done by noon. I was just Matt's assistant, mixing paint and handing him duct tape. He just did a wonderful job, it's so beautiful," he said.
What's next? Hayduk says he's working on a new piece to go next to Road Trip, called "Goodbye Earth, Hello Mars."
Copyright 2023 KKCO. All rights reserved.