King Soopers shooting suspect pleads not guilty by reason of insanity
Published: Nov. 14, 2023 at 3:33 PM MST
BOULDER, Colo. — Editor's note: This story below includes details from testimony about the King Soopers shooting that readers might find disturbing.
The man accused of killing 10 people at a Boulder King Soopers store more than two years ago pleaded not guilty by reason of insanity during a hearing Tuesday morning and was ordered to undergo another mental health evaluation.
Ahmad Alissa is charged with 111 counts, including 10 counts of first-degree murder, for the March 2021 shooting that took place at the King Soopers store on Table Mesa Drive.
Boulder District Judge Ingrid Bakke found that the evidence was sufficient to move the case against the suspect to trial. She set his bond at $100 million, cash bond or surety, and ordered him to be sent back to the state mental hospital for another evaluation, as part of his not guilty by reason of insanity plea.
That evaluation must be completed by Jan. 8, 2024. His trial is tentatively set to begin on Aug. 12, 2024. Jury selection is slated to begin the week prior. If a jury were to find the suspect not guilty by reason of insanity, he would avoid a prison sentence and would be sent to a mental hospital for treatment until such time as he was judged to no longer be a danger to himself or others.
The lead investigator looking into the shooting testified Tuesday that the suspect shot most of his victims repeatedly after singling them out.
"They were identified and pursued by the shooter, who moved quickly," Boulder Police Detective Sarah Cantu said on the witness stand during the preliminary hearing for the suspect.
She told the judge that the suspect left his home at 1:53 p.m. on the day of the shooting and arrived at the store in Boulder at 2:24 p.m. He sat in his car for five minutes before getting out and shooting Neven Stanisic, who was sitting in the driver's seat of his van parked next to the suspect.
She said the shooter fired first through the driver's side window and then through the front windshield of the van. Stanisic was hit five times.
In just over a minute, Cantu testified, the shooter killed seven more people, including Kevin Mahoney and Tralona Bartkowiak, who were outside the store. Mahoney was shot four times, and Bartkowiak was shot twice. Cantu said the suspect was standing "over her" when he shot her the second time.
Cantu testified that all three of them were killed within 33 seconds – before anyone had even had a chance to call 911.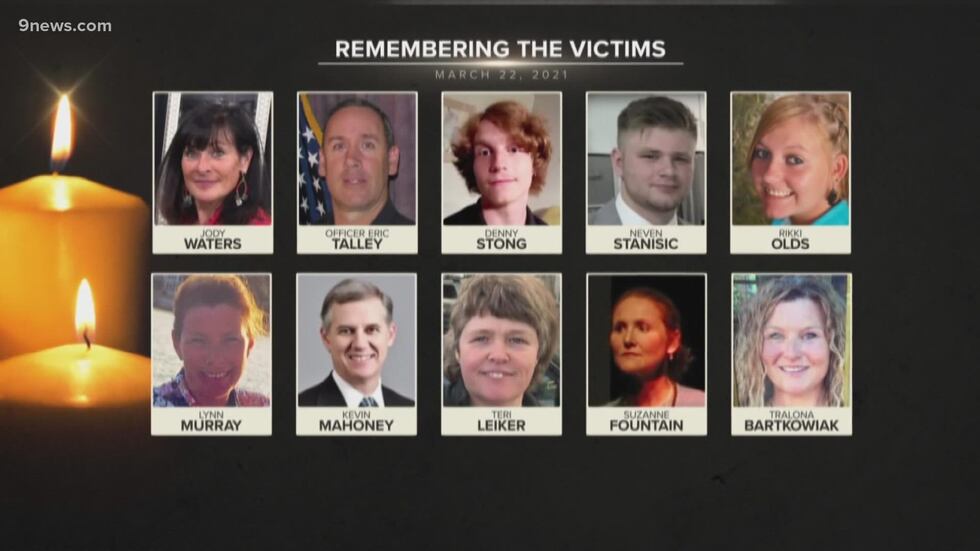 He then entered the store, where he continued his attack by shooting Rikki Olds, the first person he saw inside the store, Cantu testified.
"She was walking towards the door," Cantu said about Olds, based on the security video she had reviewed. "Her head was craned as if she was looking out the door."
She was shot once in the head before the suspect turned his attention toward Denny Stong, who was trying to run away. Cantu said he was shot in the back and dove between two check stands to crawl to safety.
"He pursued him, and he shot him as he was on the ground," Cantu said.
Stong was shot three times.
Lynn Murray was checking out and was shot four times as she ran for cover. Teri Leiker was bagging groceries in the same area and initially tried to crawl to safety, Cantu said. She was fatally shot as she stood up to run, she said.
Jody Waters was shot as she hid under a register near the front of the store.
Cantu testified that Murray, Leiker and Waters were all fatally shot within a span of 10 seconds.
"He found moving targets. He pursued them until they stopped moving," she said.
Cantu testified that afterward, it appeared the suspect walked through the store looking for victims. He eventually found Suzanne Fountain in aisle 10 and shot her three times.
Cantu said she believed that Fountain had been hiding in the aisle and was shot when she came out of hiding and tried to flee to the store.
The suspect's final victim was Boulder Police Officer Eric Talley, who was shot in the head and leg immediately after entering the store with two other officers, Cantu said.
The other officers retreated and waited for backup. The next group of officers entered the store huddled closely together and were immediately met with gunfire from the back of the store, Cantu said.
"Glass is breaking all around them," Cantu said as she described the front entrance doors of the store exploding from the gunfire.
"One officer dropped to the prone position and stayed in that aisle – all the others kind of fell back into this vestibule – many of them didn't know where the shots were coming from at that point," Cantu said.
When the suspect came out where he was visible, Cantu said, Officer Richard Steidell, who was on the ground in an aisle, exchanged gunfire with him. During the exchange, the suspect was shot in the leg.
The suspect also faces numerous attempted murder charges related to the other people inside the store who were in the line of fire when shots were fired.
One of them was a store clerk who later told investigators that he crawled down a store aisle, removed stuff from a shelf, and then hid himself behind items in an effort to conceal himself from the shooter.
Another man told investigators that he dove to the ground and stayed there for about an hour before he was contacted by law enforcement and escorted out of the store, Cantu said.
The suspect shot at but missed a woman and her son, Cantu said.
"She was familiar with firearms," Cantu said. "She was listening for a magazine change – for an opportunity to run. She thought it was 15 seconds, she would have to run from the store."
The suspect was taken into custody at 3:28 p.m. Prior to that, he had stripped down to his underwear and left all of this weapons and clothing in a store aisle.
Cantu also testified about the weapons the suspect had and told the judge he had six magazines capable of holding 30 rounds. Legally, magazines are only allowed to hold 15 rounds.
Cantu was the only person to testify during the hearing.
A motive for the shooting has not been determined, but Cantu testified that investigators found notes on the suspect's phone about components for rifles. Other notes on the phone included tips for "how to run and shoot," Cantu said. In the month prior to the shooting, the suspect had completed a Google search related to how to make a rifle fully automatic.
Since the shooting, the suspect was repeatedly ruled incompetent, but Bakke recently ruled that he was competent after he underwent extensive treatment, which included forced medication. She said in her decision on the suspect's competency was "tenuous."
The suspect faces 111 charges:
10 counts of first-degree murder

47 counts of attempted first-degree murder

1 count of first-degree assault

6 counts of possession of a large-capacity magazine during the commission of a felony

47 counts of crime of violence with a semiautomatic assault weapon, a sentencing enhancer.
He had been charged with 115 counts, but four counts for possession of a large-capacity magazine were dismissed.
The suspect's attorneys raised the issue of his competency back in September 2021. Doctors who evaluated him concluded that he was not competent to proceed – meaning he was not able to understand the proceedings or assist in his own defense.
Copyright 2023 KUSA. All rights reserved.