Precipitation continues through Sunday due to a new storm system from the state's northwest corner.
A new storm system will enter the Grand Valley early Sunday morning, bringing more rain and possibly snow for some areas.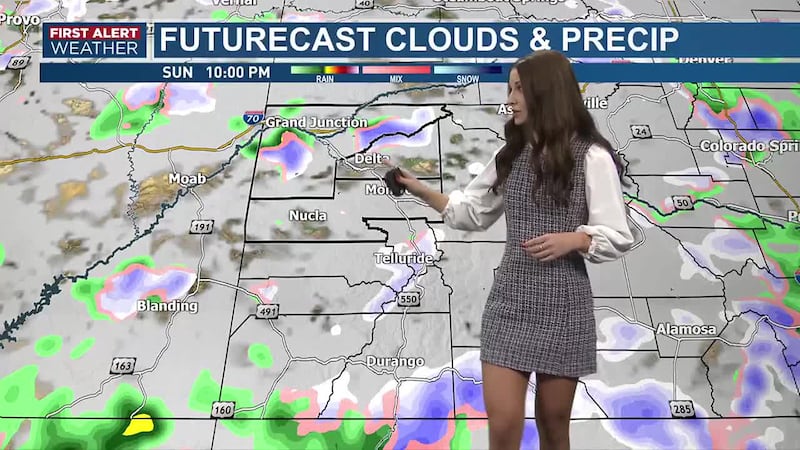 Published: Nov. 18, 2023 at 10:36 PM MST
GRAND JUNCTION, Colo. (KKCO) -
Weekend Rain and Snow
There have been scattered showers across the western slope today. Moving into tomorrow morning, we anticipate the arrival of a new storm from the northwest corner of the state. This storm will bring a mix of rain, snow, and cloud coverage. By 8 AM Sunday, the storm will enter the area and will pick up around lunchtime. At roughly 4 PM, the storm will be directly above head for most on the Western Slope and will persist well into the evening.
Winter Weather Advisory
Several locations have been placed under a winter weather advisory. This effect will remain in place until 5 AM Monday morning. This advisory will affect the Grand Mesa, Battlement Mesa, Elk Mountains, and Sawatch Mountains. Roughly 4-8 inches or up to a foot of snowfall is possible. Road conditions and visibility will be impacted. Caution while traveling is advised.
Grand Junction is not projected to see any snowfall with the incoming storm system. Surrounding areas may see varying snowfall by the end of the day on Sunday. Many of the major Rocky Mountains will also see scattered snowfall throughout the day tomorrow.
Our Next 24 Hours
The lows for tonight in the early morning hours will be 36° in Grand Junction, 33° in Delta, 33° in Montrose, and 27° in Cortez. The highs for tomorrow will be 49° in Grand Junction, 51° in Delta, 47° in Montrose, and 46° in Cortez.
A Look Ahead
Our highs for this week will be cooler than last week. High temperatures will stay in the low 50s. There is some indication that another wave of rain and snow could arrive next Friday. Partial cloud coverage will appear on Thanksgiving day just before a possibility for precipitation on Friday.
Copyright 2023 KKCO. All rights reserved.