Local mailman saves residents from knife attack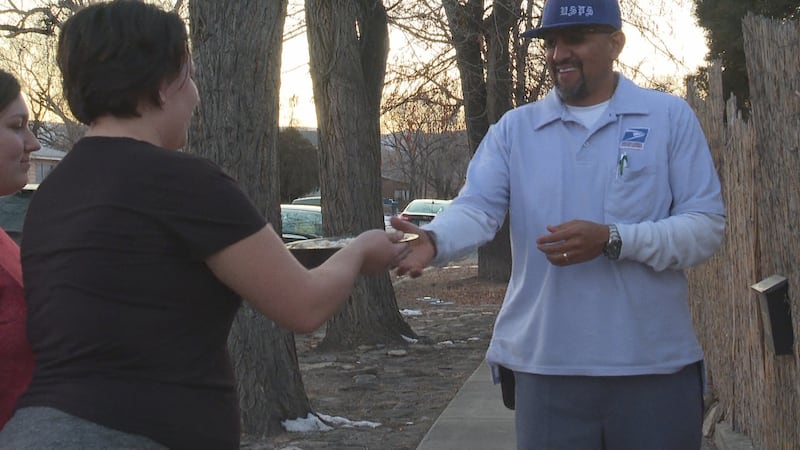 Published: Jan. 14, 2020 at 10:39 PM MST
On Monday evening Pedro Mendoza was on his regular mail route when he noticed a frightening scene: a man threating a woman and her baby outside of her home off of W. Ute Avenue.
"He was saying, 'I'm going to kill you and your baby and I'm going to slice his throat,'" says Mendoza.
The man reportedly came towards the woman with a knife. A neighbor right next door, Carlos Garcia, intervened in the situation. The man then turned on Garcia and began approaching him with the knife. That's when Mendoza jumped into action.
"He looked at me and he said 'you want some of this?'. Then he reached into his back pocket and pulled the knife on me and started swinging his knife," says Mendoza.
Mendoza then tackled the suspect to the ground while Garcia managed to get the knife away from the man. Mendoza held him restrained until police arrived.
"The guy was telling me to let go and I told him 'I'm not going to let you go and hurt anyone on my route,'" says Mendoza.
The affidavit reports that 29-year old Christopher Cisneros resisted arrest, resulting in a physical struggle with the officer who arrived.
"The first one that arrived on the scene seemed to have a little bit of a struggle trying to hold him down and get cuffs on him. Pedro and I went right back over to him and helped the officer get the cuffs on him until more officers arrived on the scene," says Carlos Garcia.
Other officers with GJPD arrived on scene shortly after and reportedly used a canine to surrender Cisneros. Cisneros was arrested and is facing multiple charges including 1st degree assault with a deadly weapon, disorderly conduct and resisting arrest.
Garcia is calling his mail carrier's actions heroic: "He always goes above and beyond, always. Even after the incident he just picked up his stuff and kept delivering mail. He wanted to make sure the mail was delivered on time," says Garcia.
Mendoza says he was just doing his job and would do it all over again.
"If anything like this would happen again I would do it again in a heartbeat because my customers are like my family," says Mendoza.
GJPD responded with the following statement saying: "Mr. Mendoza and Mr. Carlos went above and beyond in providing aid in this situation, even risking their own personal safety to ensure that others were safe. We are gratified by their courage to intervene in a dangerous situation, and to continue to provide assistance even after officers arrived on scene. Both gentlemen represent true citizen service, and we appreciate the selflessness they displayed in helping where it was needed".