Pediatrician: not all strollers are summer safe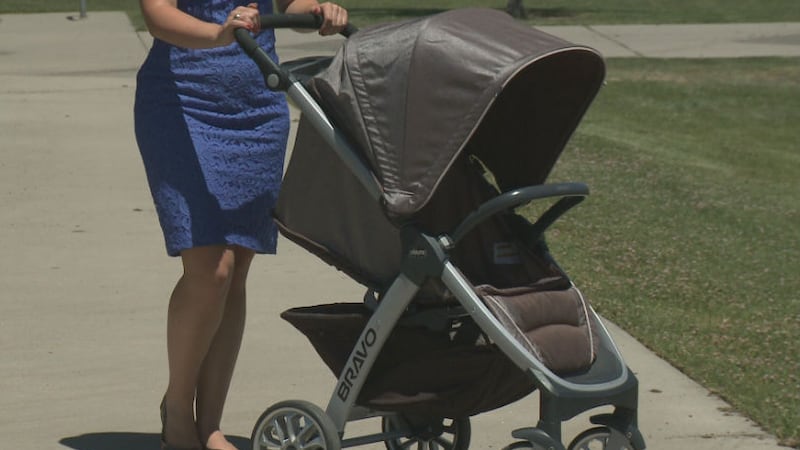 Published: Jul. 14, 2016 at 6:57 PM MDT
Infants and children under four are at the greatest risk for heat-related illnesses, and pediatricians say your child's stroller might be making a warm summer day dangerously hot.
You know a black shirt can make you feel twice as hot...the same goes for a stroller.
"Strollers are frequently dark in color because it hides stains, so it makes sense that a stroller would be dark," said Dr. Heather Edgley. "But when it's hot outside, it's much better to use a light-colored stroller that's going to allow more air circulation and less heat trapping."
According to the Skin Cancer Foundation, a baby's skin doesn't have very much melanin, a natural form of sun protection.
At 0-6 months, baby skin is too sensitive for sunscreen, so it's key to keep them out of direct sunlight.
When in the market for a new stroller, it's important to look for something that's going to keep your baby cool. A sunshade will help protect children from the sun
Pediatricians warn that sunscreens also come with added hazards.
"Anything that's going to come over the top of the baby and potentially block any sort of airflow is going to be dangerous," Edgley said.
Edgley said to compare this feeling to sitting in a cloth chair at an older child's soccer game. Your back usually sweats much quicker than the rest of your body.
"If you think about it they're not getting any air circulation from the back side, they're only getting something from the front," Edgley said.
Pediatricians said the a baby's body heats up much faster than an adult's, because infants don't sweat as well.
Kristy Carter, a mother of three, said her stroller doesn't have a good air flow, and it's something she has to keep in mind.
"We just get him up and out of it periodically," Carter said.
Dr. Edgley suggests you occasionally remove babies from wearable wraps and car seats in addition to strollers.
The good news is a cheaper stroller may be the cooler option.
Pediatricians said the expensive, dark colored joggers are the worst strollers for the heat. You can buy the cheap strollers for around $20 and they may be the better option for summer. They have less material and are usually lighter in color.
Look for these qualities in your stroller:
light colors
breathable fabric
less plush in the fabric
sun shade with ventilation
dark colors
lots of fabric
sunhades without ventilation



Heat Exhaustion Symptoms According to CDC

Heavy sweating
Weakness
Cold, pale, and clammy skin
Fast, weak pulse
Nausea or vomiting
Fainting